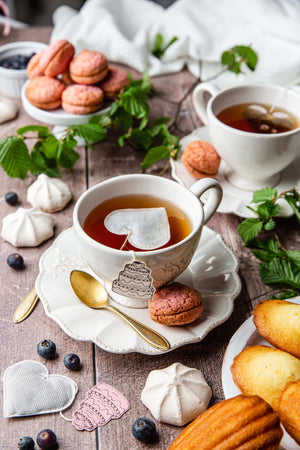 To reward your loyalty
Sign up, collect points and earn discounts!
A program to thank you for your trust and commitment to Tea Heritage.
This is a winning program for you.
More and more of you are ordering regularly on our site and we would like to thank you for your loyalty.
How does it work ?
The principle is simple, accumulate points (also called leaves 🍃) by performing different actions and turn them into a discount on your next order.
The first step is to click on the "Collect 🍃and earn €" button, at the bottom left of each page of the site, and enter your e-mail address there.
How to earn points / leaves 🍃?
1. By placing an order on our website
For example if you place an order of 100€, you will earn 500 points / sheets🍃 and receive 5€ discount on your next order.
2. By following us on Instagram
Connect to your Instagram account through our loyalty program, follow our @teaheritage account and immediately collect 50 points / leaves 🍃.
>strong>3. Happy Birthday!
Enter your date of birth on your loyalty program account and receive 200 points / leaves 🍃 on your birthday!
Refer a friend and earn a discount voucher 🤍
Recommend Tea Heritage to a friend by sharing a URL link that will be displayed after your order. You and your friend will receive a discount on your next order.
A question about our loyalty program?
On all the pages of our site you will find at the bottom left a button "Collect 🍃and earn €". Click and enter your email address. Welcome to the Tea Heritage family!
You will receive summaries of your points and discounts by email. If you don't receive anything, check your spam.
There is no time limit! It's up to you whether you want to accumulate the maximum number of points before using your first reduction or whether you want to use your points as soon as you have them.
Our loyalty program can only be used on our website: www.teaheritage.fr